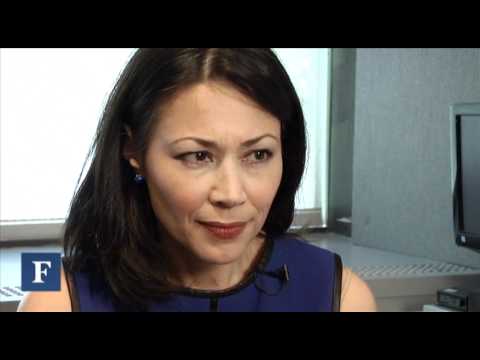 Yesterday afternoon I went to the Women's Media Center office in New York to do a short video interview about the future of feminism. This set me to thinking once again about how much unused power women have in our hands, as I continue my search for the practical power tools and tips that can help us get past our resistance to power.
I'd been just mulling this when I clicked onto Forbes' 100 Most Powerful Women list last week. At first, I thought, hmmm, this list is improving: it contains a higher percentage of women in politics and business and fewer in the entertainment world then years past.
But then I took a look at the video of a sampling of those powerful women talking about power and guess what? To a person, they either say they don't have power (Anna Wintour? Are you fricking kidding me?) or downplay the value of the power they have. Or they try to morph it into various other words.
"But, heavens, let's not admit to having real power, or even wanting it" seems to be what was in the memo to these women as they prepared for their interviews.
I thought the best answers were given by new IMF head Christine Lagarde, who said without missing a beat that power is "The ability to set the agenda." I also resonated with the way former president of Chile and current head of U.N. women, Michele Bachelet, defined power as "the condition that enables you to perform and develop the things you think need to be done." Sounds like "power to" to me!
Kate Farrar writing on the AAUW Dialog blog took a different angle in analyzing the list of powerful women, focusing in particularly on the underrepresentation of women in politics. And she yearns for more younger women on the list.
Certainly this headline about my friend Nell Merlino's brainchild is cause for applause: "Make Mine a Million $ Business Program Celebrates Power of Women Owned Businesses with Ringing of The Opening Bell(SM) at New York Stock Exchange Friday, September 2, 2011 — Pre-Labor Day Bell Spotlights Impact and Potential of Women Entrepreneurs Creating Jobs and Fueling US Economy"
But still, where is the female Bill Gates? That kind of quantum level wealth creation by creating a new technology that changes how we live should be the next glass ceiling for a woman to crash through. Facebook COO Sheryl Sandberg is great, but she didn't create Google or Facebook, her previous and current employers.
There's a—pun intended—wealth of difference. Her much-cited and shared TedWomen talk from last December  is mostly about how women can adapt to a system designed to keep them out, rather than changing it. The fact that this speech was made at a TedWomen conference, held in response to complaints that the "real Ted" lacked a representative number of women, reveals the cultural bias still poisoning the well. (Like this Facebook page "She Should Talk at Ted" and participate in its activities if you want to help fix that.)
So back to my interview on feminism. Do I think it's all bad news? No way! I said that feminism has essentially won the revolution. We've changed the world in ways large and small. We've seen a woman first almost everything. We've opened doors, changed laws, and changed minds. Now even right wing Republicans know it's a good idea to have a woman on the ballot.
But in every social justice movement, declaring victory is not the end but the beginning of the next phase. After the Declaration of Independence and the American Revolution, came the need to govern a bunch of disparate colonies, and after the fine words of the Constitution came a 200+ year battle to extend the blessings of liberty to African Americans, women, gays and lesbians, and other disenfranchised groups. That's still a work in progress.
So we women must face the fact that one thing we haven't changed sufficiently yet is our own relationship with power. We aren't walking through those open doors in numbers large enough or with sufficient intention to reach parity at work or in politics for at least two more generations at the rate we're going.
Let's speed it up. We have the power in our hands. And we have the proof from many studies that more women in leadership makes for more profitable businesses and better governance.
We earn 60 percent of college degrees, are the majority of voters and half the workplace; we control 85 percent of consumer spending.
The future of feminism will be bright if we use the power in our hands proactively and strategically to bring about the equality for women and social justice for all people.
That's my take—what's yours?
Latest posts by Gloria Feldt (Posts)