About 40 years ago, someone close to me told me she was involved with another woman and asked me how I felt about that. "I don't know," I replied. That was my honest answer at the time. You see, this "Don't Ask, Don't Tell" (DADT) business has been around for a long time. Nobody asked, nobody told, nobody really talked at all about sexual orientation with me as a heterosexual woman, and certainly not in the social justice and human rights context as I now understand them to be.
But change can happen. This week I joined many other Americans, gay and straight, to celebrate the repeal of "Don't Ask Don't Tell" an event that culminates decades of LGBTQ movement building and educating people like me about the fundamental fairness and justice of ending discrimination based on sexual orientation. It's not the end of the battle, but certainly a great milestone. This Friday Round Up is a tribute to the end of an unjust and unworkable policy on gays in the military, with particular emphasis on its impact on women.
Though Rachel Maddow interviewed two men for her report on the end of DADT, her breakthrough status as the first out gay woman to host a political talk show on a major network makes the story especially touching and appropriate to highlight.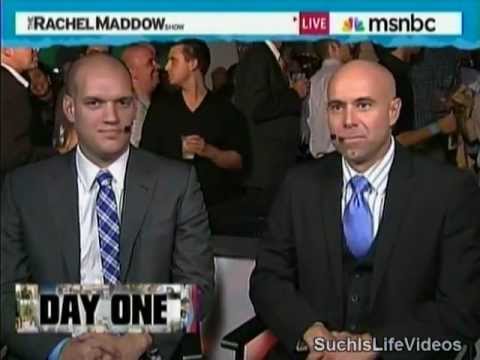 Thanks to Gay.Americablog.com founder John Aravosis who has been using the power tool "Employ Every Medium" brilliantly for decades on behalf of equality for gays and lesbians for flagging the video. In full disclosure, John consulted in developing Planned Parenthood's online advocacy when I was there. Homophobia and sexism are joined at the head, so the alliance is a natural one. I'm going to buy and "Wear the Shirts" on his site.
Here's an engaging Brian Lehrer podcast where he interviews a retired naval officer Beth Coy on what it was like to be a closeted lesbian and the importance of authenticity (Power Tool: Wear the Shirt): Be sure to listen for her relationship with "Johnny" McCain at age four for great insights.
A shout out also to Serena Freewomyn and FeministsforChoice.com and this post which is rich in information about the impact of DADT on women in the military: "Women suffer more under Don't Ask Don't Tell"
So many stories have come to light this week and in the Gay City News' article "Don't Ask, Don't Tell's Repeal Hailed at the Stonewall" by Michael T. Luongo we meet Brenda Sue Fulton, a graduate of West Point in 1980 and served in the Army for five years in the Signal Corps based in Germany near Stuttgart as a platoon leader, staff officer, and company commander.
"When asked her feelings about DADT's repeal, she was at first speechless, and then suddenly said, "There's a tremendous feeling of exhilaration, but you know, to me it feels less like a party and more like a moment to honor and remember the people who worked so hard to make this happen." She added, "Tomorrow, our active service people will be back to work and they will be as professional as they have always been, but they will do so no longer having this millstone around their neck."
Five other brave women tell their stories in Meghan Neal's "DADT Repealed, But not Before Interrupting These Women's Careers" from the Huffington Post. It profiles how the law changed their lives and features the story of Katherine Miller who in telling her story to ABC News, talked of having to live a double-life.
"I have created a heterosexual dating history to recite to fellow cadets when they inquire. I have endured unwanted approaches by male cadets for fear of being accused as a lesbian by rejecting or reporting these events. I have been coerced into ignoring derogatory comments towards homosexuals for fear of being alienated for my viewpoint. In short, I have lied to my classmates and compromised my integrity and my identity by adhering to existing military policy."
I especially enjoyed reading Linda Hirshman's rendition of the history and pop culture present and how the LGBTQ movement is succeeding by using the power tool Create a Movement. She's writing a book on the LGBT movement–watch for it next year! She has told me that the women's movement needs to take lessons from the gay rights movement in how to embrace and wield political power—more on that later.
"Likening the gay movement's triumphs in federal court and the military to the civil rights movement's accomplishments obscures the real meaning of what the gay movement has achieved. And how America has changed in the six decades since Harry Truman courageously signed that order and Justice Earl Warren persuaded the Supreme Court into unanimity on the unconstitutionality of racial caste. No politician — no president and no Supreme Court justice — put his or her political capital and power behind the gay victories in the military and the courthouse. The gay movement won them, and continues to win them, largely by itself. It's a bootstraps movement."
Bookmark the Service Women's Action Network. Its mission: SWAN supports, defends, and empowers today's servicewomen and women veterans of all eras, through groundbreaking advocacy initiatives and innovative, healing community programs.  This site is a great resource for information and action including a Post-DADT Fact Sheet .
In addition to fighting for the repeal of DADT, they have initiatives you can get involved with on other issues such as ridding the military of sexual abuse. Because a victory is never the end, just a new beginning in the quest for equality and justice.
To illustrate just how much work remains I submit this ridiculous news in the "you won't believe how low pop culture has sunk" category: CLICK HERE.
Nuff said. Let's go celebrate and then get back to work.
Latest posts by Gloria Feldt (Posts)